THE GREAT KAT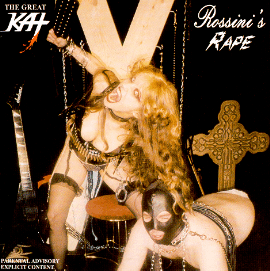 Rossini's Rape
OUT NOW
---
Track Listing: Rossini's "William Tell Overture", "Sodomize", "Castration", Bazzini's "The Round Of The Goblins".
Album Review:
The Great Kat has taken the art of speed metal to a whole other level, cyberspeed metal, with her new CD "Rossini's Rape".
Starting with the classic "William Tell's Overture" she takes nothing away from this masterpiece but with her contribution of shredding guitar licks shows that classical and metal can come together to make beautiful music. But hold on, guys, I don't know if you'll be turned (if you're into the whole pain and humiliation thing) or terrified by the next two tracks "Sodomize" and "Castration". Very brutal lyrics that may be fantasies she's conjured up in her head of what she'd like to do if she could dominate over the whole male society. With that aside the music behind the lyrics are captivating and gives it a style that almost sounds midievil.
With the last track Bazzini's " The Round of the Goblins" she shows off her talents once again not only on guitar but violin as well. With fiery speed and technique The Great Kat proves she can master anything or anybody, for that matter.
My opinion is to go get "Rossini's Rape" and to put you in the mood, have someone that you love chain you to the bed and give you the beating of a lifetime!
BUY THE CD HERE.





Review by: Kathryn Smith of S-B-S
Click here to visit the official Great Kat website.
Click here to e-mail The Great Kat