SBS = Fedja of S-B-S, TB = Tairrie B, MM = Mick Murphy
SBS: How are you all?
MM: DOING GREAT.....THANKS FOR ASKING. WE JUST DID A WEBCAST ON KNAC.COM AND IT WAS A LOT OF FUN. LOOKING FORWARD TO OUR WHISKEY SHOW TOMORROW.
TB: AT THE MOMENT I AM CALM AND WRAPPED IN A RED BATHTOWEL GETTING READY TO SOAK MY BODY IN A TUB FILLED WITH BATH SALTS THAT OUR DRUMMER GAVE ME TO RELAX.....AND EAT SOME SPAGHETTI WHEN I'M FINISHED! WE HAVE A PRETTY BIG SHOW TOMORROW EVENING AND I WOULD LIKE TO BE WELL RESTED.
iSBS: Can you tell us about the new line-up of My Ruin (who they are, where they come from etc.)?
MM: I MET TAIRRIE ABOUT 9 MONTHS AGO AT A PARTY AND WE INSTANTLY STARTED WORKING TOGETHER. I LOVE BEING IN THIS BAND......IT'S LIKE ROCK-N-ROLL REVENGE ON THE CHEESY TRENDS IN MUSIC TODAY.
TB: MICK MURPHY IS WITHOUT A DOUBT THE MOST AMAZING GUITARIST I HAVE EVER HAD THE PRIVILEDGE TO WRITE, RECORD AND PLAY LIVE WITH.HE IS KINDA LIKE THE MALE COUNTERPART TO ME IN MANY WAYS.HE GAVE MY LYRICS LIFE AND "A PRAYER UNDER PRESSURE" WOULD NOT BE THE SAME RECORD WITHOUT HIS ENVOLVEMENT....PERIOD! MEGHAN YOU WILL REMEMBER FROM OUR LAST TOUR LAST YEAR AND SHE KICKS ASS.YAEL IS ROCK PLAIN AND SIMPLE AND SHE HAS BROUGHT A VERY LOVING VIBE TO THE BAND.
SBS: What's it like having a female drummer for the first time? We hear that she is pretty amazing.
MM: SHE IS AMAZING. IT'S JUST LIKE HAVING A MALE DRUMMER ONLY SHE'S A GIRL. (KICKING ASS)
TB: WELL LET'S PUT IT THIS WAY...YESTERDAY SHE WAS DELIVERED HER VERY OWN CUSTOM MADE SIGNATURE KIT BY "DW" WHO RARELY GIVE ENDORSEMENTS TO DRUMMERS (LET ALONE 100% FULL ENDORSEMENTS) AND THE FACT THAT THIS WOMAN CAN BEAT THE HELL OUT OF A DRUMSET AND LOOK FUCKING HOT DOING IT GETS MY VOTE!!!!!
YAEL - My Ruin drummer
SBS: Mick: What is it like being the only male in My Ruin?
MM: I DIG IT. THESE WOMEN ARE COOL PEOPLE, GREAT PLAYERS AND THEY ARE TRULY DEDICATED TO ROCKING!
TB: MICK IS THE SEXIEST MEMBER OF MY RUIN!!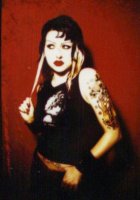 Tairrie B - My Ruin
SBS: What are the strengths & weaknesses within My Ruin?
MM: SOME OF OUR STRENGTHS ARE OUR WEAKNESSES. WE ARE RAW, HEAVY AND HONEST. (THREE THINGS THAT FRIGHTEN THE MUSIC INDUSTRY)
TB: OUR STRENGTHS ARE OUR ABILITY TO PLAY TOGETHER AS A BAND WITHOUT FEELING THAT SOMEONE CAN'T HOLD HIS OR HER OWN. WE ARE A UNIT. TIGHT AS FUCK AND HARD AS ROCK! OUR WEAKNESSES ARE THE LABELS THAT "SUPPORT US"....IF YOU CALL IT THAT!
SBS: In what way do you feel My Ruin is different than last year?
MM: WE ARE ALL STRIVING FOR THE SAME GOAL. WE ARE A COHESIVE UNIT.(NOT HIRED GUNS)
TB: THIS IS THE REAL DEAL. NOT TO SOUND LIKE I'M DISSING ANYONE BUT THE TRUTH IS THAT I NEEDED TO BREAK FREE OF MY PAST AND ALTHOUGH MARCELO IS A GOOD FRIEND AND AWESOME DRUMMER HIS HEART WAS NOT IN IT. MELANIE WAS REALLY COOL BUT SHE DID NOT UNDERSTAND THE HEAVIER SIDE OF THINGS OR "THE METAL"! LANCE AND TODDY WERE BASICALLY JUST HIRED MUSICIANS FOR THE TOUR.
SBS: Are you looking forward to the forthcoming UK tour? We really look forward to seeing you again....
MM: I CAN'T FUCKING WAIT FOR THE TOUR! PLAY,PLAY,PLAY,PLAY!
TB: DID SOMEBODY SAY...."KEEP ON ROCKIN?"(yeah MICK MURPHY DID!) I CAN'T WAIT TO GET BACK AND SEE ALL MY UK FRIENDS, BLASPHEMOUS GIRLS, BOYS AND BEAUTY FIENDS!!
SBS: How did the L..A. Troubador show go? Was it what you expected?
MM: OUR TROUBADOR SHOW WAS SO AWESOME. GREAT CROWD.....OUR FANS ARE THE BEST.....RUIN THE REST!!!!!!!!!
TB: WHAT HE SAID!!!
SBS: A Prayer Under Pressure...... is a lot heavier that the first My Ruin album.... Who is mostly responsible for these great heavy tunes?
MM: I'LL ACCEPT THE BLAME FOR THAT ONE.
TB: UM I SCREAMED MUCH LOUDER AND HARDER THIS TIME hahaha....OUR PRODUCER NICK RASKULINECZ AND MICK REALLY MADE THIS RECORD WHAT IT IS MUSICALLY. THEY UNDERSTOOD MY VISION AND TOGETHER WE CREATED OUR VISION. IT FELT INCREDIBLE IN THE STUDIO. I FEEL LIKE THIS IS THE RECORD I SHOULD HAVE MADE LAST YEAR!
SBS: What were your major influences during the writing of A Prayer Under......?
MM: BLACK FLAG, NICK CAVE, CHEESEBURGERS,BEER,FU MANCHU,KISS,X,BLACK LEATHER, SABBATH, BONGHITS,TURNING UP LOUD,MAKING FUN OF THE WORLD,GIBSON GUITARS,MONSTER MAGNET, BERGAMOT, KNOXVILLE,MARSHALL AMPS,TONS OF OLD EFFECTS PEDALS,LAUGHING,BRUCE LEE, RACE BOATS, TOM LEYKIS,GOATSNAKE,GEORGE CARLIN,M2,NONSENSICAL WORDS LIKE "HARFIN" AND "KABIBULAN", TOM GREEN, DOWNSET,OZZY,PANTERA,JACK DANIELS AND HAVING A BLAST.
TB: NSYNC,THE THONG SONG,BOSS HOG,MORCHEEBA,12 ROUNDS,WHISKEY AND COKE,VANILLA STOLI KISSES,RAIN,X,BBQ SANDWICHES,JACK IN THE BOX TACOS , JACK OFF JESSICKA, DOWNSET, METAL HAMMER AND KERRANG,HOLLYWOOD,BLACK HAIR DYE,JESUS,SPINACH, THE CLOWN, NAG CHAMPA,THE VIRGEN MARY,DISTORTION,HONEY, FISHERMANS FRIENDS ,THROAT COAT, THE BIBLE, DOLLAR FILM,LYNN STRAIGHT,KISS AND ANY OTHER SHIT WE COULD GET OUR HANDS ON !!!!!!!
SBS: Who is the laziest in My Ruin and who does the most work??
MM: WE ALL WORK HARD IN DIFFERENT WAYS BUT MISS B. IS THE DRIVING FORCE.
TB: HMMM? WELL I GET NO SLEEP AND I WON'T POINT FINGERS.....
SBS: What's going on with Spitfire Records and My Ruin.....? we heard there were a few complications.
MM: SPITFIRE IS RUN BY AN OVER-FED OVER-GLORIFIED WANNA-BE POWER TRIPPER!!!!! (WHO HATES US)
TB: I THINK YOU MEAN "SHITFIRE RECORDS"!!!THEY KILLED "SPEAK AND DESTROY" BECAUSE I WANTED THEM TO ACTUALLY PROMOTE AND SUPPORT IT AND I GUESS THAT WAS ASKING A BIT TOO MUCH! MY REAL ANSWER SHOULD HAVE BEEN...WHO????
SBS: Do you know when A Prayer..... will be released in the US?
MM: GOOD QUESTION. WE'RE WORKIN' ON IT.
TB: HOPEFULLY NOT A YEAR LATE OR A DOLLAR SHORT...LIKE THE LAST ONE!
SBS: From your upcoming UK tour what would you pick as your most favorite venue??? Our guess would be Manchester University, because of the church that you love just across the road....... Are we on the right tracks?
TB: I LOVE MY CHURCH (THE CHURCH OF RUIN) I LOVINGLY REFER TO IT...AND MANCHESTER IS ALWAYS SO EMOTIONAL FOR ME. I JUST LOVE TO PLAY IN ENGLAND BECAUSE IT IS ALWAYS SO SPECIAL AND FILLED WITH FAMILIAR FACES.
SBS: Seeing that now there are two My Ruin albums released, there are plenty of songs to play live. Will this reduce a chance of any Tura Satana or maybe even Manhole songs being addes to the set list?
MM: WE DEFINITELY WANNA CONCENTRATE ON MY RUIN FIRST AND FOREMOST.
TB: I AM OVER IT. I WANT TO START FRESH AND THE NEW RECORD ALONE HAS 14 SONGS I WANT TO PLAY + A FEW FROM THE LAST ONE SO THERE IS NO CHANCE THIS TIME.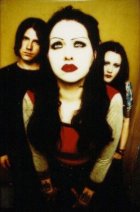 My Ruin
SBS: What are good and bad points in My Ruin when touring?
TB: KIDS ARE ALWAYS GOOD. THEY MAKE ME FEEL APPRECIATED AND ARE A REMINDER OF WHY I CONTINUE TO DO WHAT I DO EVEN IN THE MIDST OF HORRIBLE OBSTICLES. BAD IS WHEN THE PRESS ASSHOLES JUST DON'T FUCKING GET IT AND TALK THAT SAME OLD WORN OUT SHIT WHICH ADDS UP TO THE FACT THAT I WON'T KISS ASS SO THEY CAN KISS MY ASS!
SBS: Can you give us any more info on the support acts for your upcoming UK tour... Are you familiar with the bands? So far we hear it's Sugar Coma and Snake River Conspiracy... right?
TB: I ALREADY ADORE MY LITTLE SUGARS!!!!I HAVE BEEN EMAILING BACK AND FORTH WITH THEM AND HAVE HEARD THEIR STUFF. I LOVE IT SO FAR AND I AM LOOKING FORWARD TO HAVING JESS SING OR SHOULD I SAY SCREAM WITH ME ON TOUR. SRC I AM NOT TOO FAMILIAR WITH BUT THEY ARE ALL COMING TO OUR SHOW TOMORROW NIGHT SO MAYBE WE CAN HANG A BIT BEFORE THE TOUR?
SBS: Will there be any videos in production for one of the songs of the new album. The video last year for 'Terror' was amazing....
MM: WE WANT TO DO A VIDEO FOR BEAUTY FIEND, BUT WE HAVEN'T YET.
TB: THANK YOU...WE HAVE A GREAT IDEA FOR BEAUTY FIEND BUT IT WOULD TAKE A REAL LABEL TO MAKE IT HAPPEN HONESTLY. UNTIL THEN WHY BOTHER.
SBS: How did the 'Speak and Destroy' tour go in America?
MM: ASK SHITFIRE RECORDS.
TB: I'M SORRY.... WHAT?????COULD YOU REPEAT THAT QUESTION TO THE PRESIDENT OF SHITFIRE RECORDS!!!
SBS: Which are you favourite tracks of the album and why?
MM: STICK IT TO ME 'CAUSE IT'S UP TEMPO AND THE VOCALS ARE IN YOUR FACE. HEARTSICK 'CAUSE IT HAS THE SICKEST GUITAR SOUND. LETTER TO THE EDITOR 'CAUSE IT IS SUCH A WEIRD AND HEAVY TRACK. LET IT RAIN 'CAUSE IT'S ABOUT ME.
TB: IN ALL TRUTH I LOVE THE ENTIRE RECORD SO I CANNOT ANSWER THIS...IT'S ALL MY FAVORITE!
SBS: Are the songs on the new album as personal to you as the songs on 'Speak and Destroy'?
TB: YES AS ALWAYS MY LYRICS COME FROM THE HEART. THERE IS REALLY NO OTHER WAY I CAN WRITE.
SBS: Any new bands that we should look out for???
MM: GOATSNAKE IS A KICK ASS L.A. BAND. THEY ARE LIKE A MODERN SUPER-HEAVY SABBATH.
TB: DRUNK WITH POWER AND GOATSNAKE.....
SBS: That's about it, and to wrap it it, we wish you all the best of luck with the future of My Ruin from us here at Strength Beyond Strength and we look forward to your upcoming UK tour, we can't wait to see you... Bye everyone...
TB + MM: THANKS FOR TAKING THE TIME TO INTERVIEW US AND WE CAN'T WAIT TO SEE YOU AND ALL THE KIDS ON TOUR........MISS B & MR MURPHY (MI RUINA)
Interviewed By: Fedja of S-B-S
Thanks to Tairrie B and Mick Murphy for this cool interview.