The Great Kat Interview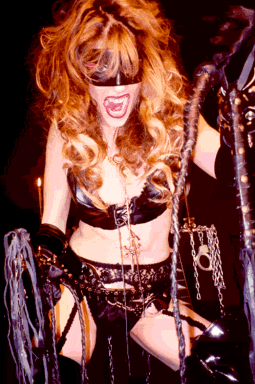 Interview By: Kathryn Smith Of SBS
Date: September 21, 2000
KS = Kathryn Smith
GK = The Great Kat
---
KS: How would you describe your music to someone who's never heard it before?
GK: The Great Kat's Cyberspeed Music is a FAST, VICIOUS, RAW, ANGRY, BRILLIANT, COMPLEX, GENIUS BLEND OF CLASSICAL MUSIC AND SPEED METAL!!!!!!!

NOW WAKE UP AND GET INTO THE NEW MILLENNIUM with my NEW CD "ROSSINI'S RAPE"!!!!!!

Rossini's Rape" is a 4-Song CD featuring:
Rossini's "William Tell Overture" -- A BLISTERING 1 minute, 53 second version of the INFAMOUS "William Tell Overture." This OUTRAGEOUS speed version combines a Symphony Orchestra (Strings, Brass, Winds, Tympani, etc.) of LIVE musicians, MIDI instruments and a VICIOUS Speed Metal Band. The Great Kat BRILLIANTLY RIPS through the masterpiece on ALL Guitars, Violins, Violas and conducts!

"Sodomize" -- Ultra-Violence rules in this PSYCHOTIC and VENGEFUL ORGY of abuse, rape and SODOMY. This MANIACAL song features a THUNDERING Tympani and Gong to represent the ULTIMATE HUMILIATION!

"Castration" -- Get ready for a WILD ride of 3 Classical Baroque style Harpsichords, mixed with arpeggiated guitar virtuosity and threats of severing, chopping and crushing of sensitive body parts! J.S. Bach meets >Marquis De Sade!

Bazzini's "The Round Of The Goblins" - The Great Kat's demonic violin virtuosity and satanic guitar genius star in this non-stop whirlwind Classical piece. To top off all the OUTRAGEOUS guitar and violin technique, there's a Classical Piano and Speed Metal Band!!
To hear a sample of "Rossini's Rape" CD go to the Kat Web Site at http://www.greatkat.com
KS: Listening to your past and present cds it's obvious you have a massive classical influence, what made you decide to combine that with cyberspeed metal?
GK: The Great Kat is a JUILLIARD GRADUATE violin virtuoso and won NUMEROUS VIOLIN competitions in Classical Music, toured as a violin soloist. I DISCOVERED the EXCITEMENT and AGGRESSION of SPEED METAL and DECIDED TO become The HIGH-PRIESTESS of GUITAR SHRED RESURRECTING Classical Music for the NEW MILLENNIUM!!!!!!

KS: Who would you say were your greatest influences? Classical and non-classical.
GK: Kat Influences: Beethoven, Wagner, Bach, Mozart, Ozzy.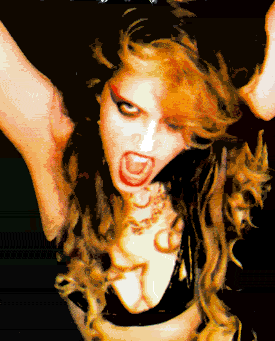 The Great Kat
KS: What is the difference between speed metal and cyberspeedmetal?
GK: SPEED METAL is fast Heavy Metal. CYBERSPEED METAL is the UNIQUE COMBINATION of FAST, VICIOUS, RIPPING AGGRESSIVE SPEED METAL with GENIUS CLASSICAL MUSIC and Computerized MIDI technology!!!!!
KS: Can we expect a tour from you anytime soon?
GK: The High-Priestess of Guitar Shred plays ONLY SELECT SHOWS. If you want to see THE NEW BEETHOVEN OF THE 21st CENTURY LIVE, THEN DEMAND IT AT YOUR LOCAL CLUBS!!!!!!!!! THEN I MIGHT DECIDE TO bless you INFERIORS with my GENIUS!!!!!
KS: How many instruments do you play on each of your songs on "Rossini"?
GK: The Great Kat plays ALL guitars, violins and violas.
KS: What brand of guitar do you favor when playing?
GK: The Great Kat Plays a Jackson V guitar, Gibson V guitar and Guild Strat guitar among many others.
KS: Will you be making any more videos like you did for "Torture Chamber"?
GK: The Great Kat Play The NEW Great Kat Music Video "CASTRATION" will be out in October 2000!!!! GET READY FOR THE SICKEST VIDEO YOU'VE EVER DROOLED OVER!!! STAY TUNED TO THE GREAT KAT GUITAR GODDESS WEB SITE at http://www.greatkat.com for the PREMIERE!!!!!!
KS: What kind of advice can you give to future guitar players and musicians?
GK: The Great Kat is a HIGHLY TRAINED VIRTUOSO VIOLINIST playing ACTUAL VIOLIN parts on the GUITAR!!!!!!!!!!!!!!!!!!! If you want to ATTEMPT to play MY CLASSICAL/SPEED METAL MUSIC, then YOU MUST PLAY WITH A METRONOME!!!!!!!!! Start SLOWLY and build up SPEED!!!!!! SEE IF YOU CAN DO IT!!!!!!!!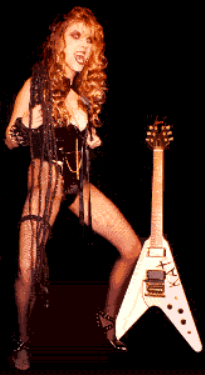 The Great Kat
KS: Do you have any other future projects in the works?
GK: The NEW Great Kat CD will be out in Jan, 2001, featuring the MOST VICIOUS, RIPPING, BRILLIANT and POWERFUL GUITAR/VIOLIN VIRTUOSITY EVER HEARD!!! Stay tuned to the Kat web site for details!!!!
KS: Any words for the thousands of loyal fans you have out there?
GK: THE GREAT KAT IS THE REINCARNATION OF BEETHOVEN!!!! NOW BOW SLAVES!!!!!!!!!! SPREAD THE WORD OF CYBERSPEED TO THE REST OF THE WORLD!!!!!!
End Of Interview
[ CLICK HERE ] to visit The Official Great Kat Guitar Goddess Website.
[ CLICK HERE ] to e-mail The Great Kat
Write To The Great Kat At:
TPR Music, 775 Park Ave., Suite #222, Huntington, NY 11743