DEADFILMSTAR
INTERVIEW
[ Coventry's Industrial Goth Mob ]
Date: 16th October 2001
Interviewed By: Fedja and Angel
S-B-S = Fedja and Angel of S-B-S, Gary = Gary of DEADFILMSTAR
S-B-S: When did Dead Filmstar form?
GARY: DFS was formed in November 2000 after the split up of K.N.O. We still use alot of the material from the former band but, real drums and a more confident guitar player have improved the song's dramatically. We've had teething problems with the first shows as I rushed the band out (in this business if you stay away too long your forgotten very quickly)but if you were at the last show you'd know we've now got our shit together.
S-B-S: How did you come up with Dead Filmstar as the bands name?
GARY: I always hated the name K.N.O (it still tags us now) as it didn't reflect the way the band had developed. I'd seen a fanzine called Dead Rock Star and it stuck with me. I think DFS suits us down to the ground.
S-B-S: Have you had any luck looking for a bassist to join the band?
GARY: We're not really looking at the moment, when Mr. Right arrives he arrives.
S-B-S: Have you recorded any demos?
GARY: We've only got live recording's out at the moment as were getting ready to record that all important album.
S-B-S: How do you get on as a band in general?
GARY: Lots of shouting, arguing and general mayhem, not much different to other bands
really.
S-B-S: There is quite a big age gap with some of the band members. Does it affect
you in any way?
GARY: Yeah, changing nappies is alright but, the incontinence pants can become a bit
of a problem at times.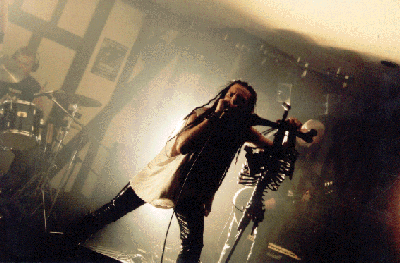 Gary of DEADFILMSTAR
S-B-S: We hear you are planning on a huge Halloween gig at a local pub. Will it be just a regular gig or have you got something special planned?
GARY: As well as DFS playing and Big Dave DJing there's tarot readers, face painters,
giveaways and the whole place decked out in Halloween paraphernalia.
S-B-S: What is more important to you when doing a gig... Stage presence or the music itself?
GARY: I think both are important in the context of what we're doing.
S-B-S: Have you been contacting record labels / promoters with your material for a possible record contract?
GARY: No, I've held off until the album is done.
S-B-S: When playing live, what is your favourite song to perform and is it still your most preffered song in general?
GARY: I think we generally feed off the audience when it comes to song's, of course the Suede cover 'Filmstar' is a favourite.
S-B-S: What inspires your lyric writing?
GARY: A fascination with such things as 'has been' starlets, childstar exploitation, celebrity suicide - drug abuse, obsessive fan's and the list goes on.
S-B-S: How many live shows have you done so far?
GARY: As DFS four.
S-B-S: Are you planning any other live shows other than the Halloween do?
GARY: The Day Of the Dead @ The Dog n trumpet Coventry and The Mercat Birmingham, hopefully before the end of the year.
S-B-S: What is the next major plan with Dead Filmstar?
GARY: Getting the album done as that's all that's holding us back at the moment.
Interviewed By Fedja and Angel Of Strength Beyond Strength
[ CLICK HERE TO CHECK OUT THE OFFICIAL DEADFILMSTAR WEBSITE ]